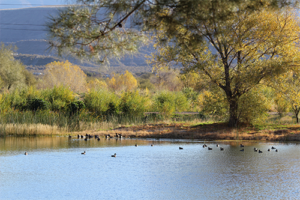 Black Canyon Heritage Park provides visitors with a chance to experience nature and culture in a friendly, nurturing environment.  We have a short accessible trail that offers a chance to enjoy being outdoors and learn through our interpretive signage.
We continuously work to maintain and improve the Park.  That work includes adding educational media, removing invasive species from the Agua Fria River Corridor and improving riparian habitat for a variety of wildlife species.
The park provides resources necessary for butterflies to survive and produce successive generations.  The park has even earned the distinction as a Monarch Waystation view See more at https://www.monarchwatch.org/waystations/.
The water feature and plants attract a wide variety of birds.  Being near the Agua Fria National Monument Important Bird Area, helps.  Check out https://ebird.org/hotspot/L3604678.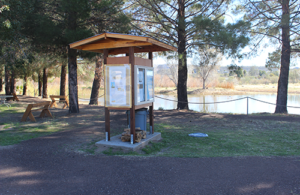 We prescribe healthy activities for fun and education that will help all our visitors reap the incredible physical, psychological and spiritual benefits of outdoor activities.  We particularly want to engage our youth to set them on the path of being stewards of our community and environment.
The park is also home to Black Canyon City's own Historical Society housed in the Historic 1926 Schoolhouse and Museum.
Our connection to the Friends of the Agua Fria National Monument enhances the Park role to introduce you to the Monument and all of its discoveries. These discoveries include the rich biological, cultural, and historical reflection of the area's early Arizonans and Native Americans.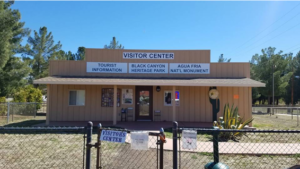 With the Chamber of Commerce located in the Visitor Center, the park is also the Gateway to many fun, educational, recreational and historical areas of the region.  Whether it's going back into history, biking, hiking, vacationing, learning about the area's riparian ecosystem, or just taking a break from the road, our Visitor Center and volunteers can help you learn more about the area and guide you to your next destination.