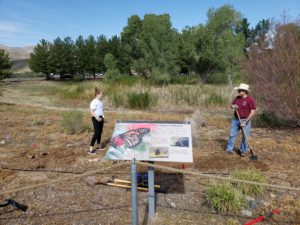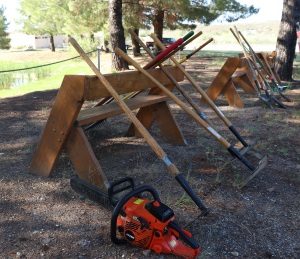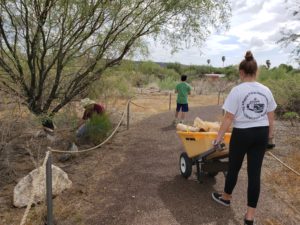 Black Canyon Heritage Park working with the Bureau of Land Management and Desert Botanical Gardens is hosting a National Public Lands Day to complete park maintenance tasks.  All volunteers will get a special NPLD t-shirt and a one day Fee-Free park pass,
Volunteers will be removing invasive plants and planting native plants to attract birds, butterflies and other wildlife. They will also be clearing vegetation from the trail, removing trash, and making other park improvements.  Snacks and water will be provided for the event.
NEEDED:     25 to 30 Volunteers for National Public Lands Day Celebration
WHEN:        Saturday, October 5, 2019.  Registration 8:30; Work starts by 9 AM and ends by noon
WHERE:      Black Canyon Heritage Park, 33955 S. Old Black Canyon Highway, Black Canyon City, AZ 85324
SIGN UP:    http://bit.ly/BCHP-NPLD
OTHER DETAILS:
Youth age 17 or younger must have the BLM Youth Liability Release signed before October 5 and be accompanied by a parent or guardian. Contact Ann at 623-293-8628 for form.
Tools will be provided except weed trimmers. If you have a cordless weed trimmer that can be used, please bring it. You may also bring your own hand tools if you prefer.
Bring your own work gloves. Dress for outdoor work (sturdy shoes and, as needed, sunscreen, hat, etc.).
Desert Botanical Garden will provide butterfly friendly plants with butterfly experts to help plant them.
BLM will support our volunteers with T-shirts, snacks, and expertise.
BCHP will provide water.
Join thousands of volunteers that visit their favorite parks, beaches, wildlife preserves and forests to give back to the treasured lands where we play, learn, and relax in celebration of the 25th annual National Public Lands Day (NPLD) – the nation's largest, single-day volunteer effort for public lands.  The actual day in September 30 but celebrations occur throughout the year.
 Contact:  Ann Hutchinson     Email: info@BlackCanyonHeritagePark.org